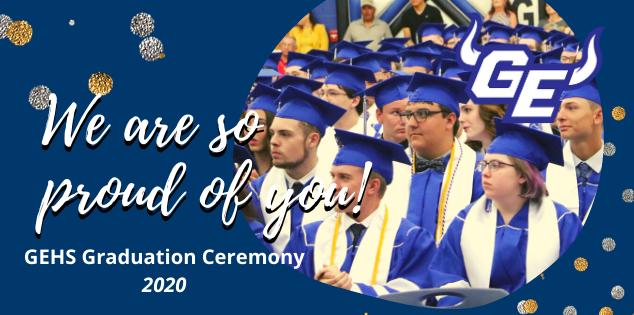 GEHS Graduation Announcement
media
Monday, May 04, 2020
Dear Seniors,
As part of the effort to support you, we have continued to research options to host a meaningful graduation ceremony to commemorate your accomplishments. Unfortunately but understandably, Governor Laura Kelly's order to close schools through the end of the school year included a prohibition on in-person ceremonies being held before May 29, 2020. Understanding this requirement, Superintendent Stranathan and district administration gathered feedback from students and staff leadership groups regarding our options to host a ceremony - ideally in person - but very possibly in a virtual environment.
As a result of the student survey results we received, in conjunction with the Governor's guidance, we write to share our plan for graduation. At 7:00 p.m. on Saturday, July 25, 2020, one of the following two ceremonies will take place
In-person graduation ceremony.

As is the case every year, a decision regarding whether this event will be held indoors or outdoors will be determined based on the weather (severe storms, heat, humidity, phase-in level, etc.)
OR
Virtual graduation ceremony.
Note: It is extremely important to know that a final decision about whether we are able to have gatherings large enough to host in-person graduation will be made based on guidance from federal, state, and local authorities.
In the event that a virtual ceremony is our only option, we will make every effort to ensure that it is unique and follows the format of the traditional graduation agenda. Mr. Meyer, the selected student speaker, Mr. Radel, the faculty representative, and Superintendent Stranathan will celebrate you, and your tremendous milestone.
As we gather more information, we will continue to keep you informed.
Please continue to stay safe! We miss you!